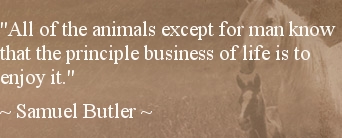 Dr. Micky Doyle was born and raised in Carson City, Nevada.  He attended Life West Chiropractic College in Hayward California and graduated Magna Cum Laude in 2000.  Dr. Micky practiced in the Bay Area for a couple of years and decided to return home to Nevada in 2004.  He currently lives with his family in the Spanish Springs area of Sparks.  On days that he is not adjusting animals, he practices on our two-legged, not-so-furry friends at Doyle Chiropractic located in the Chiropractic Health Center, 294 E. Moana Lane, Reno. Be sure to ask for an appointment with Dr. Micky!

Dr. Micky is certified as an Animal Chiropractor by American Veterinary Chiropractic Association (AVCA) and Nevada Veterinary Board of Medical Examiners.   

The AVCA is an organization made up of Doctors of Chiropractic and Veterinary medicine.  Certified doctors have advanced studies in animal chiropractic care and have passed proficiency exams.  More information about the AVCA can be found at 
www.animalchiropractic.org
.